Bible Studies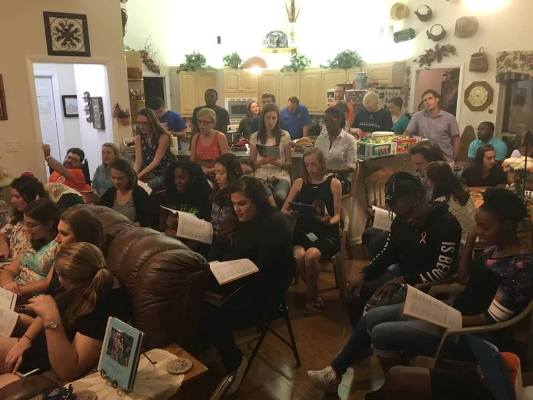 Bible Studies
---



Sunday Morning Bible class


We meet Sunday morning at UCCC for Bible class and worship services. The Summer B schedule is as follows:
9:00am-10:00am - Bible Class at UCCC Room #212-214
"Acts - People, Purpose & Power of God" by Donny & Various Teachers /Learning English Bible Class at UCCC Room #211 by Peggy Sedlacek & Various Teachers

10:20am-11:30am - Morning Worship Service
Singing, Prayer, Communion, Sermon

6:00pm-7:00pm - Get to know all ages in our church family better through our various "242" (Checkout Acts 2:42) Groups that meet throughout Gainesville, or meet at UCCC audiotrium.

Dinner & A Devo
During the every fourth (final) Sunday night of the month, at one of our church members' house, at 7pm. There is praise & worship singing, inspirational devotional/discussion, food, fun & fellowship!

Wednesday Night "Peak of the Week" Bible class at UCCC Gym-
on "Revive"! Come join us every Wednesday at 7pm as we go deep into making God and His love top priority in our lives and explore biblical ways to love and serve others!
Thursday Men's & Women's Small Group Bible Studies -
Women's Small Group Bible Studies and Mens Small Group Bible Studies each week during the Fall!
Women's Small Group Dinner Bible Study at Emma, Krista & Maya's place (It is at Lexington Crossing – 3700 SW 27
th
Street Apt. D-104 - Cell: 1-786-356-2675 by UF. Park in nearby visitor parking), 7pm; Men's Small Group Dinner Bible Study at Ryan's house (2902 NW 41
st
Avenue – Ph#352-682-7632), 7pm