Calendar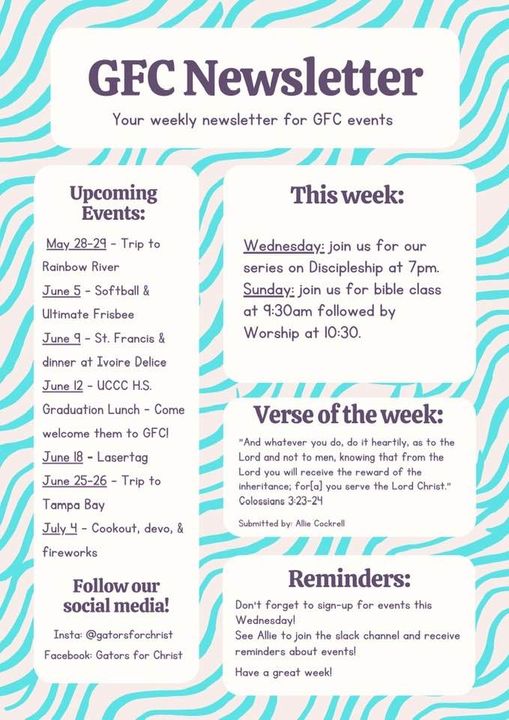 Fun time last night at our house for dinner & game night! We will be back in the church gym for our new College & Post Grad Bible Class series this Wednesday Night May 25th at 7pm on "The Way of the Alongsider" - it is about Discipleship - being a disciple who helps encourage and sharpen fellow disciples and helping make disciples by walking alongside others to bring them closer to Jesus. We will have 30 minutes of Bible lesson by Darren & Donny and 30 minutes of Discussion small groups led by Abel, Kato, Lavoris & Casey. Afterwards we will be playing sports! Happy birthday to GFC grad Kayla Vairo this week!
This Saturday May 28th come join our Memorial Day weekend get-a-way and meet at noon for Lunch, Kayaking, Canoeing,Tubing, Dinner Cookout & Bonfire Devo by Dre at Michael Hartmans place (11486 SW Hendrix Dr. in Dunnellon), stay in cabins right there (please pack Bible, overnight necessities, modest swimwear, towel, casual clothes, and bring own pillow/blankets). Sunday May 29th we will have a Communion Service by Michael, breakfast & more river fun! No cost!! For anyone not going but in town this Sunday we have our combined college & post grad Bible class at 9:30am in room #104 on Zechariah by Kato Pinder. Our worship this Sunday at University City Church of Christ is at 10:30-11:30am with Mark sharing the message.
Trip to Tampa Bay details:
June 25-26 Saturday - Rays Game at 1pm plus free team gear ($30 a person due to Donny by end of May - CashApp $DonnyDillon or PayPal donny@gatorsforchrist.org) & Beach, free stay in hotel & Sunday - Worship at Northwest C of C 9:30am and Bible class 11am and serve the homeless lunch 1-3pm! Sign up this Wednesday night in class.