Calendar
Ra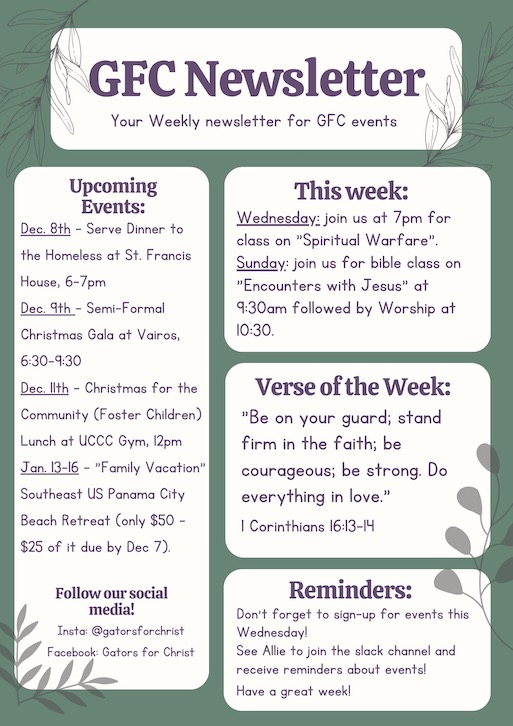 Welcome back - hope you had a blessed Thanksgiving Break! Thanks to those who came back early to do Sunday morning worship for the church in Cedar Key! This Wednesday Night Nov. 30th see everyone for our college & post grad "Peak of the Week" Bible class in the church gym at 7pm (4626 NW 8th Ave) on "The Battle of Relationships" (God's plan for healthy relationships) where we will start together for praise & worship and break into a ladies class by Julie & Christina and guys with Donny & Darren! Bring a friend! Sports afterwards. Happy birthday to Karol Sanchez and Dylan Lerner this week!
This Sunday morning at 9:30am December 4th we have our Ladies Bible class by Tina Vairo, Christina Coffield and Christine MacGregor in room #104. We also have our Bible class at 9:30am in room #104 on "Encounters of Jesus" by Darren! Our worship this Sunday at University City Church of Christ is at 10:30-11:30am with Mark sharing the message! Join one of our 8 small groups on Sunday night!
Christmas Semi-Formal at the Vairos Come for a great Christmas dinner together (bring a favorite side if you like), Bring a $10 gift for white elephant exchange and enjoy a great opportunity to dress up, fun & fellowship at the Vairos (16501 NW 128th Terrace in Alachua)! Sign up this Wednesday!
Christmas for the Community We are having our 26th annual Christmas for the Community Lunch on Sunday Dec. 11th from 12-1:30pm after morning worship service! We will be having Christmas lunch, Gator athletes signing autographs, ponies, and Santa Clause along with our college students handing our gifts to all of our foster children in Alachua County. Sign up this Wednesday!
The "Family Vacation" Southeast U.S. Retreat Jan. 13-16 is with nearly 1,000 college students & post grads from around the Southeast U.S. for praise & worship, speakers, small groups, breakout classes, beach games and more at the Boardwalk Beach Resort on Panama City Beach Jan. 13-16, 2020 (MLK Holiday weekend)! Don't miss this amazing opportunity with what many call our best trip of the year leaving Friday at 4pm on our 56 passenger bus from UCCC at 4pm and returning Monday morning (no classes the next morning MLK holiday). Sign up this Wednesday and the total is still only $50 and $25 deposit is due by Wednesday Dec. 7th!
Radiate Retreat January 6-8th During Christmas Break – Register Directly with them at https://docs.google.com/.../1FAIpQLSeoOcYXRyqsn7.../viewform!