Calendar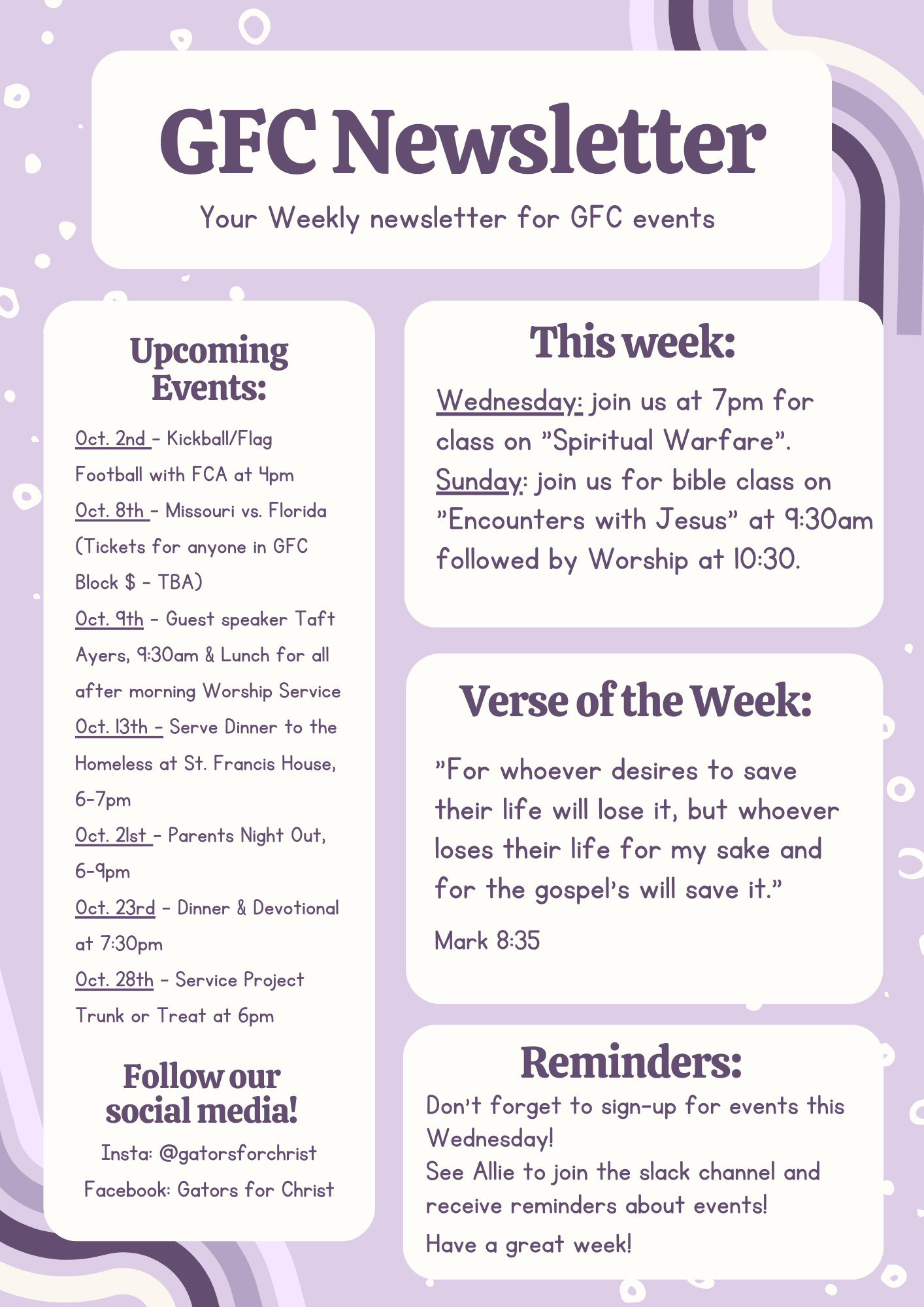 Due to an abundance of caution with Hurricane Ian coming we are not having Wednesday evening Bible class tomorrow. We will instead have the same college & post grad "Peak of the Week" Bible class next week Oct. 5th in the church gym on "Forgiving Ourselves as the One (God) Does" by guest speaker John Branard! Invite a friend!
Safe travels to all of you going home to family to ride out the storm, with the cancellation of classes at UF & SFC the rest of this week. For those staying here if anyone needs anything please let me know.
This Sunday October 2nd we are on for our Sunday college & post grad Bible class at 9:30am in room #104 on "Encounters of Jesus" by Sterling Anderson! Our worship this Sunday at University City Church of Christ is at 10:30-11:30am with Mark Jamieson sharing the message! With the Gator game now this Sunday at noon, we will be moving kickball with FCA to Sunday Oct. 9th at 4pm. Small groups are still happening this Sunday night!
Have a blessed day, Donny
Facebook & Instagram: Gators for Christ; Twitter: @Gators for Christ; full Fall schedule at https://www.gatorsforchrist.org and click on activities. GFC at UF officially located at https://www.dso.ufl.edu/documents/nsfp/Finding_A_Center_with_the_CMC.pdf. GFC at SFC officially located at https://sfcollege.campuslabs.com/engage/organization/gatorsforchrist
GFC Homecoming Events October 8th & 9th:
If you are a GFC member and need football tickets for our extra GFC Homecoming Block on Saturday Oct. 8th - please send $25 to Venmo @Donny-Dillon or Cashapp $DonnyDillon or PayPal donny@gatorsforchrist.org. Sunday October 9th at 9:30am we will have guest speaker Taft Ayers doing our college class upstairs! After morning worship is our big Homecoming lunch in the church gym!