Calendar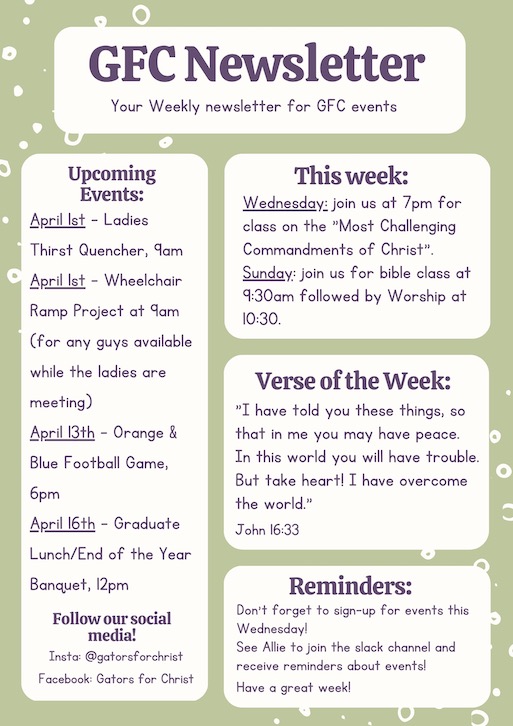 Great time of worship on campus last week, and fun time of fellowship at the Lock-in Friday night! We are back in the church gym this Wednesday March 29th at 7pm for our college & post grad "Peak of the Week" Bible class by Darren. Invite a friend!
This Saturday April 1st at 9am there is the semi-annual Ladies Thirst Quencher at UCCC Gym! For the guys there is a WheelChair Ramp Service at the same time - please carpool from the church at 9am.
This Sunday morning April 2nd at 9:30am we have our "Parables of Jesus" Bible class at 9:30am in room #104 by Donny. Our worship this Sunday at University City Church of Christ is at 10:30-11:30am with Mark sharing the message.
Have a blessed day, Donny
Facebook & Instagram: Gators for Christ; Twitter: @Gators for Christ; full Spring schedule at https://www.gatorsforchrist.org and click on activities. GFC at UF officially located at https://www.dso.ufl.edu/documents/nsfp/Finding_A_Center_with_the_CMC.pdf. GFC at SFC officially located at https://sfcollege.campuslabs.com/engage/organization/gatorsforchrist